24/7 Disaster and Emergency Operator Response ready to deploy with equipment, material, and highly trained technicians for any local, state, or federal natural disaster or infrastructure breakdown within 1 hour.
Residential Aerobic Wastewater System
Team-Jet of Jet Aeration of Texas, located in Vidor, Texas, sells, installs, and maintains residential Aerobic Wastewater Treatment Plants producing clean, odor-free, and clear water to your home.  Jet's newest technology is the BAT® (Biologically Accelerated Treatment) Process and is remarkably efficient eliminating the need for an outdated septic tank's odor and sludge.  These advanced aerobic systems use a BAT® Media creating the ideal environment for the biomass while the 700++ Aerator keeps the microorganisms alive and working by injecting and mixing the oxygen aerobic bacteria require. The biomass of microorganisms digests the wastewater, converting it to odorless, colorless liquids and gases. This process produces incredibly clean and consistent water for many uses within your home and even at the same time, so call Jet Aeration of Texas at 409-769-1500 for a FREE quote today.
3 Compartment Tank Aerobic System
Jet's Residential Wastewater Treatment Plant has a 3 compartment tank which breaks down wastes. The first compartment is a PRE-TREATMENT receiving influent where sludge is formed from the settling of heavy solids. The next one is the TREATMENT compartment where our exclusive process design, BAT (Biologically Accelerated Treatment) media is used which is much more efficient than the pure activate design pioneered years ago. The last compartment is where treated water flows into the SETTLING compartment where all that remains is an odorless and clear highly treated liquid effluent safely discharged through the baffled outlet. Call Jet Aeration of Texas for a FREE quote at 409-769-1500 today.
Dependable home wastewater solution since 1955

Lifetime warranty

Replacement Of outdated septic tanks

Increases property value

Makes environment safer

3 Compartment tank is precast concrete

Can treat 500 to 1,500 gallons of wastewater per day

Operates up to 5 x's longer than septic tanks

Surges in flow do not effect performance

Highly treated effluent can a eliminate need for leaching fields and substance filters
Commercial Aerobic Wastewater System
Team-Jet of Jet Aeration of Texas installs and maintains Commercial Package Aerobic Wastewater Treatment Plants built onsite for any facility erected beyond sewer lines to recycle wastewater and greywater producing a clean, clear and odorless water source. Jet's treatment plants are modular in construction supporting a broad range of plant sizes and phased developments. Through the aerobic digestion process, these custom-designed plants treat wastewater enabling microscopic living organisms to transform wastewater into a clear and odorless liquid. Every Jet Commercial Wastewater Treatment Plant is supplied with a pre-wired electrical control panel which monitors motor and blower operations,
flow, chlorination, spray, pumps and other auxiliary equipment.
Helping Provide Water in Rural Areas
When you need water in a rural area or along the interstate in between towns for a gas station, shopping center, or motel, a Commercial Aerobic Wastewater Treatment Plant is the solution. Subdivision developers often need our team to come out and install and maintain one of our plants because so much development is taking place outside the city limits as our country grows. These commercial areas and structures are many miles from sewer lines and Jet has the team to bring clean clear water to anywhere in the United States. People living and working in isolated areas in other countries benefit from Jet's Commercial Wastewater Treatment Plants today enjoying the conveniences of clean water anywhere in the world. Call Jet Aeration of Texas for a FREE quote at 409-769-1500 today.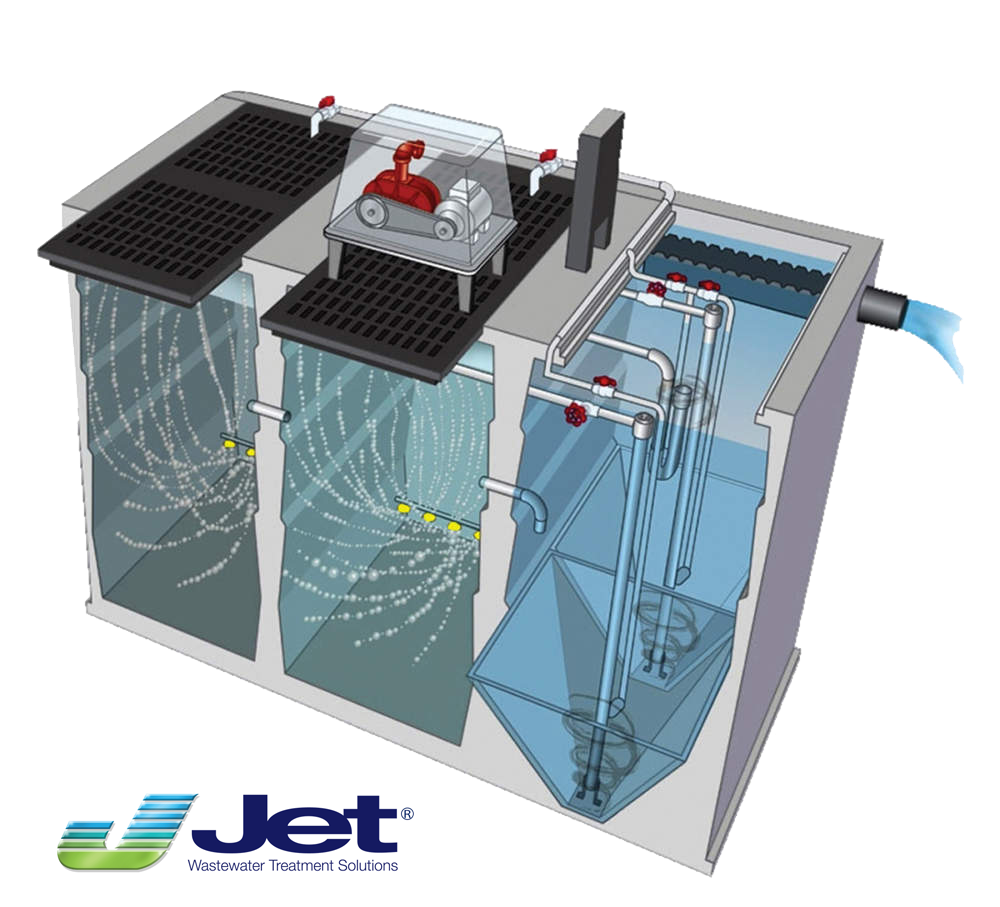 Designed to treat from 1500 to 300,000 GPD

Simple system design

All reinforced concrete construction

No complicated electronics

No filters to clogged

Dependable and reliable equipment

Lower cost of ownership

Water sampling

Certified engineer design in drawings